ELIMINATES ODOR
REMOVES GUNK & FUNK
PROTECTS FABRICS
HEX travel-sized laundry detergent is first thing to toss in your bag when you're packing for your next trip. Our one ounce HEX travel detergent is objectively adorable, but don't underestimate this tiny laundry soap. It intensely cleans your activewear and protects it from whatever ridiculous adventure you cook up. Best of all, it works just as well on the rest of your clothes, so you don't have to worry about separating laundry or smelling terrible.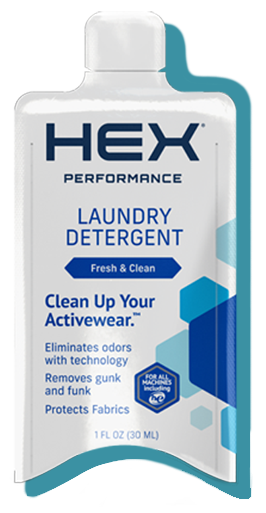 Why you'll love it
Tiny, yet mighty! Take with you on-the-go
Eliminates odors with science, not perfume
Works as well on tight-knit activewear as it does on the rest of your closet
Friendly to all washing machines, including High Efficiencies, and at all water temperatures
The bottle is 1oz – so it can go on an airplane
Smells great with no heavy fragrances or irritants, so your skin AND nose will be grateful
No goop, dyes, or fillers — our detergents pour like water because we only use what we need
---
How to Use
How to Use
Bend tab at top back and forth and tear. Empty entire packet.
Ingredients
Ingredients
A biodegradable blend of: water, surfactants (C9-11 Pareth 6, C12-15 Pareth 7), chelating agents (Tetrasodium Glutamate Diacetate), stabilizers (PEG-120 Methyl Glucose Trioleate), *fragrance, enzymes (Propylene Glycol, Amylase enzyme, Subtilisin) and preservatives (Methylisothiazolinone, Proprietary HEX Molecule).
*HEX fragrances pass the standards outlined by EPA Safer Choice and the Cosmetic Ingredients Hotlist.
Fragrance ingredients:
Citrus Woods Scent: Limonene, Hexyl cinnamal, Citronellol, Linalool, 1-(2-tert-butylcyclohexyloxy-2- butanol, Linalyl Acetate, Geraniol
Crisp Linen Scent: Hexyl cinnamal, 2-Butylcyclohexyl Acetate, Linalool, 2,6-dimethyl-7-octen-2-ol, Butylphenyl methylpropional, Hexyl salicylate, Benzyl acetate, Nitriles, Aromatic esters, hexyl acetate, 4-tert-butylcyclohexyl acetate, Limonene, 2,4-Dimethyl-3-Cyclohexene Carboxaldehyde, METHYL alpha-IONONE ISOMERS, Vernaldehyde, delta-Damascone
Fresh & Clean Scent: 2-t-Butylcyclohexyl Acetate, hexyl acetate, Aliphatic esters, 2,6-dimethyl-7- octen-2-ol, Hexyl cinnamal, Geranyl acetate, Benzyl acetate, Limonene, Ethyl 2-methylbutyrate, 2,4-Dimethyl-3-Cyclohexene Carboxaldehyde, Prenyl acetate, Allyl Cyclohexanepropionate, Geraniol, delta-Damascone
Lavender Fields Scent: Linalool, Vernaldehyde, Benzyl acetate, Citronellol, 2-t-Butylcyclohexyl Acetate, Terpineol, Methyl Cinammic aldehyde, coumarin, Cedrol, Linalyl Acetate, Limonene, Ethers
Fragrance Free: No fragrances added
FEATURED IN
FEATURED IN